Analysts refute Ashton Carter's China 'self-isolation' claims
SINGAPORE - US defense secretary's China "self-isolation" claims were totally incorrect, local analysts said here on Saturday.
In a speech delivered here Saturday at the on-going Shangri-La Dialogue, US Defense Secretary Ashton Carter said China could end up erecting a Great Wall of self-isolation, but analysts here refuted Carter's remarks as one-sided and over-exaggerated.
As China develops, Asia-Pacific countries had built close relations with not only the United States but also China, which proves Carter's China "self-isolation" claims at best "exaggerated," said Huang Jing, Professor and Director of Center on Asia and Globalization, Lee Kuan Yew School of Public Policy, National University of Singapore.
Carter's claims are misinterpreting China's policies, and are not in line with the two countries' consensus on forging new pattern of relationship, said Colonel Lu Yin, Associate Researcher from the Institute of Strategic Studies of China's National Defense University.
The colonel noted that Carter's remarks revealed logical paradoxes in the US rebalance strategy in the Asia-Pacific.
"I don't see it possible that without efforts from China, the United States can realize its rebalance strategic in the Asia-Pacific region as well as achieve common prosperity as envisioned," said Lu.
In his half-hour or so speech, the US defense secretary mentioned the word "principle" for as many as 37 times. In Professor Huang Jing's view, it is fairly disputable that the United States does faithfully stick to principle.
When asked about the fact that not only China, but countries including Japan, the Philippines and Vietnam all had similar construction actions, Carter said there are differences in the scale of such activities.
If one really sticks to principles, it doesn't matter what scale the actions might be, any construction activity is against the principle, argued Professor Huang.
On matters of navigation freedom, the professor said that navigation freedom should be guaranteed, but any country's freedom shall not be at the cost of posing threats to others.
Although tensions in the South China Sea are included in Carter's speech, analysts pointed out that the US defense secretary had also elaborated on the fact that China and the United States do have cooperation potentials over a number of international agendas. To safeguard peace and stability in Asia-Pacific, the two countries need to cooperate.
Oh Ei Sun, senior fellow with S. Rajaratnam School of International Studies in Singapore, said that Carter actually adopted a relatively "mild" approach when addressing disputes in the Asia-Pacific and gave much emphasis on setting up security networks in the region.
William Choong, Shangri-La Dialogue Senior Fellow for Asia-Pacific Security, said he thought the US-China relations are far more inclusive.
It's a broader relationship, although they disagree on the South China Sea issue, they can agree on many other issues which are important, such as the cooperation in cyber space, the DPRK issue, and climate change, he said.
The two countries are preparing for their upcoming strategic economic dialogue as well, he noted.
"To put it very simply, even though there are tensions in the South China Sea, I think the relationship is broad enough and strong enough, and has enough institutional mechanism for both sides to avoid their differences and work on potential solutions," said the researcher.
China refutes US defense secretary's China 'self-isolation' claims
SINGAPORE - A high-ranking Chinese military official Saturday refuted US Defense Secretary Ashton Carter's "self-isolation" claims about China.
"Carter's claims are incorrect and do not accord with the actual situation," Guan Youfei, director of the Office for International Military Cooperation of the Chinese Central Military Commission, told the media.
Guan's comments came after Carter's claims at the ongoing Shangri-La Dialogue that China's military activities in the South China Sea would isolate itself.
Guan said the United States should learn lessons from the wars it had waged in the Asia-Pacific region after World War II and play a constructive role in the region.
Guan urged the United States to keep its security pledges, withdraw troops from Afghanistan as soon as possible, stop arms sale to China's Taiwan and refrain from holding military drills on the Korean Peninsula.
Guan said China has made great efforts in promoting international and regional security cooperation since its reform and opening-up, and China's achievements in areas such as peacekeeping, disaster relief and naval escort missions are obvious.
China will continue to enhance cooperation with other Asia-Pacific countries under the Belt and Road initiative in various fields, the Chinese military official added.
The US defense secretary had earlier made similar accusations against China in a speech delivered at the US Naval Academy. The Chinese Foreign Ministry had responded, saying such claims reflected "American-style mentality" and "American-style hegemony."
Sources: China Daily/Asia News Network
Chinese Admiral reiterates stance on South China Sea
Related
: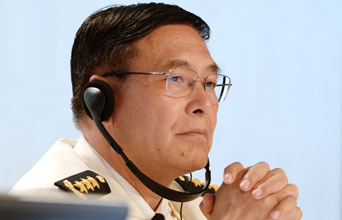 Beijing will not sit by and see several countries throwing the South China Sea into chaos, the head of China's delegation to Shangri-La Dialogue said.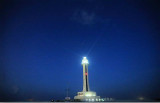 Neither the Chinese nor the United States military backed off from where they stood in previous exchanges over the South China Sea issue.
Despite China's strong opposition, the arbitral tribunal announced in late October 2015 that it can judge on seven of the 15 submissions, and linger over some other submissions.
During a 55-hour period ending Sunday, 64-year-old Admiral General Sun Jianguo took part in a whirlwind of military diplomacy comprising 17 two-way meetings on the sidelines of the Shangri-La Dialogue in Singapore
Even the claimant countries in the waters want to prioritize safeguarding peaceful development in the region.
But Carter won't change his attitude. He represents a clique that is eager to sustain Washington's hegemony in the Western Pacific by reinforcing military deployments and containing China's peaceful rise.
China urges US, Japan to stop pointing fingers on South China Sea